Did you know that both you and your local bookstore likely paid more taxes in Canada last year than major companies like Apple, Google, Facebook, Amazon, Netflix, and Uber?
These digital giants make millions - even billions - in profits every year from Canadians. That's because Canadians have embraced their technology - we're one of the biggest digital consumers in the world.
But there's a problem.
Despite their massive profits, these multinational companies get away with paying little or no tax here. The Canada Revenue Agency (CRA) gives them an exemption because they're located in another country - often a tax haven.
The CRA seems to believe that because they don't have a physical office here, they're not conducting business in Canada.
That's wrong.
This also puts Canadian business at a disadvantage - they both have to pay their taxes, while advertising a product that's effectively more expensive once taxes are applied.
That's just not fair.
This isn't about trying to make everyday Canadians pay more.
This is about ensuring a level digital playing field.
This is about ensuring that Canadian businesses can remain just as competitive as their foreign counterparts.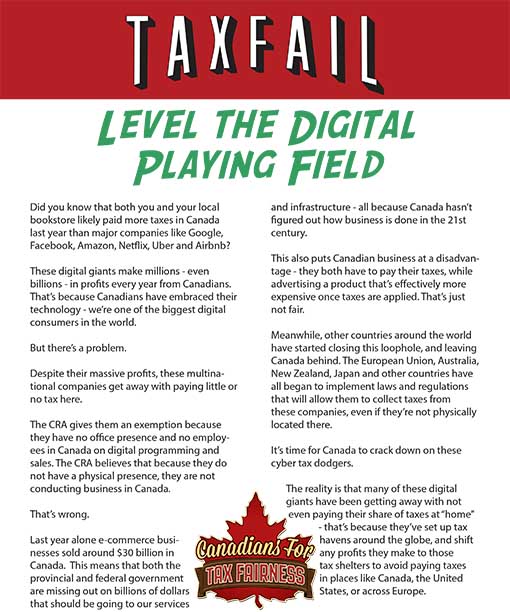 This is about ensuring that the Canadian culture we enjoy, and all the jobs behind it, remain supported and vibrant.
This is about ensuring that Canada and our provinces are receiving their fair share of taxes to continue paying for the services and infrastructure we all enjoy.
This is about tax fairness.
Please send this letter to make your voice heard on this vital issue!
Read more: Level the Digital Playing Field Factsheet (PDF)
Read more: Paying your taxes is 'political crap,' Apple? Game on.
Read more: Google searched for (and found) the perfect tax havens