The Great Revenue Robbery: How to Stop the Tax Cut Scam and Save Canada
Edited by Richard Swift for Canadians for Tax Fairness. 
Order your copy of the book from our publisher, Between the Lines(link is external)..
or become a monthly supporter by donating $10 or more a month and we will send you a free copy of the book.
More information about the book.
Tax Is Not a Four Letter Word
Edited by Alex and Jordan Himelfarb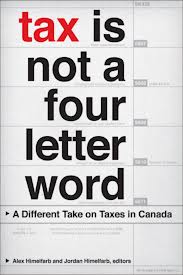 This book provides new information on how taxation, and our thinking about it, has changed. The contributors present data that shows what we get for what we invest and what we lose when we pay less. It also explores how citizens came to think of tax cuts as the "last free lunch". This book takes a positive approach to opening up public discussion and creating a political will to do better. 
Find out more about this book 
The Trouble with Billionaires
Authors: Linda McQuaig, Neil Brooks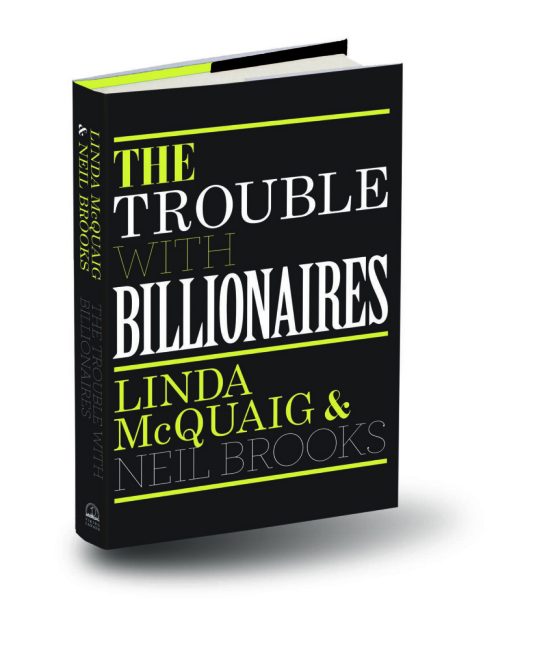 The glittering lives of billionaires may seem like a harmless source of entertainment. But such concentrated economic power reverberates throughout society, threatening the quality of life and the very functioning of democracy. It's no accident that the United States claims the most billionaires – but suffers among the highest rates of infant mortality and crime, the shortest life expectancy, as well as the lowest rates of social mobility and electoral political participation in the developed world.
North American society tends to regard large fortunes as evidence of great talent or accomplishment. Yet the vast new wealth isn't due to an increase in talent or effort at the top, but rather to changing social that legitimize greed and government policy changes that favour the new elite. Authoritative and eye-opening, The Trouble with Billionaires will spark debate about the kind of society we want. Find out more about this book.
Canada: A New Tax Haven
​by Alain Deneault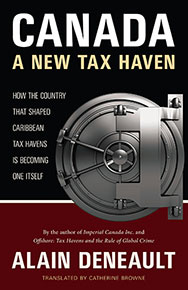 In Canada: A New Tax Haven, Alain Deneault traces Canada's relationship with Commonwealth Caribbean nations back through the last half of the twentieth century, arguing that the involvement of Canadian financiers in establishing and maintaining Caribbean tax havens has predisposed Canada to become a tax haven itself – a metamorphosis well under way. 
"Deneault shows that the tax-haven problem is not simply a problem of illegal tax evasion or money laundering by the underground economy or criminal gangs but a much larger issue of how the Canadian state has legalized the use of tax havens by large corporations so that they can evade paying their fair share of taxes."
– Dennis Howlett, Canadians for Tax Fairness
For more information and to order the book go to: Talon Books web site.