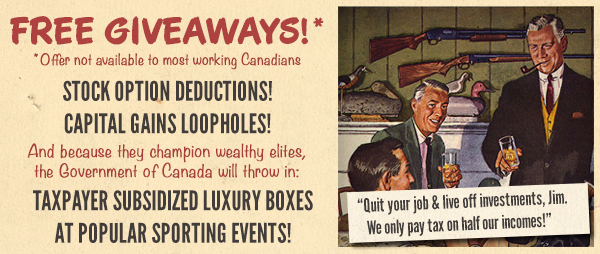 Will Finance Minister Joe Oliver do the right thing in the Spring 2015 Budget.
Send him a message now asking him to drop income splitting, cap tax free savings accounts, plug tax loopholes. and tackle tax havens. These positive measures  would put billions of dollars back to work for Canada.
Now it is up to us to remind the Finance Minister of what he has to do.
Start that review of the tax system to make it fairer.  Now.
Close unfair tax loopholes like the Stock Option Deduction which enables CEOs to avoid paying any tax on half their income from cashing in stock options.
Equip the Canada Revenue Agency to combat tax evasion and prosecute tax cheats using tax havens.
There are many other unfair tax loopholes such as the Capital Gains Deduction and the Business Entertainment Tax Deduction that add up to more than $10 billion a year in lost revenue. Find out more from The Loophole Express fact sheet.
Thanks for your support.