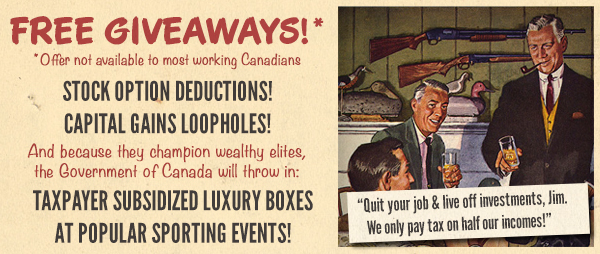 Did you know that Canada's top CEOs don't pay any income tax on 50 per cent of the money they get from cashing in their stock options?
This tax loophole costs federal and provincial governments $1 billion annually.
Not only is it costly and unfair to all of us who have to make up the difference - it is bad for the economy and encourages the short-term and risky speculation that has caused so much economic havoc.
We need to make sure the Liberal Party follows through on their promise to review tax loopholes and close the ones that unfairly benefit the wealthy.
Tax loopholes need to be closed in order to make the tax system fairer and to raise revenue needed to improve our public services and address issues of climate change and child poverty.
close unfair and ineffective tax loopholes
simplify the tax system and make it fairer
spend the realized savings on public services that benefit all of us.
For more information on ineffective and unfair tax loopholes check out our Close Tax Loopholes fact sheet.
For more information on the Stock Option Deduction check out our Stock Options fact sheet
Please send a message to the Prime Minister, Finance Minister and party leaders asking them to commit to closing unfair tax loopholes.
Thanks for your support.