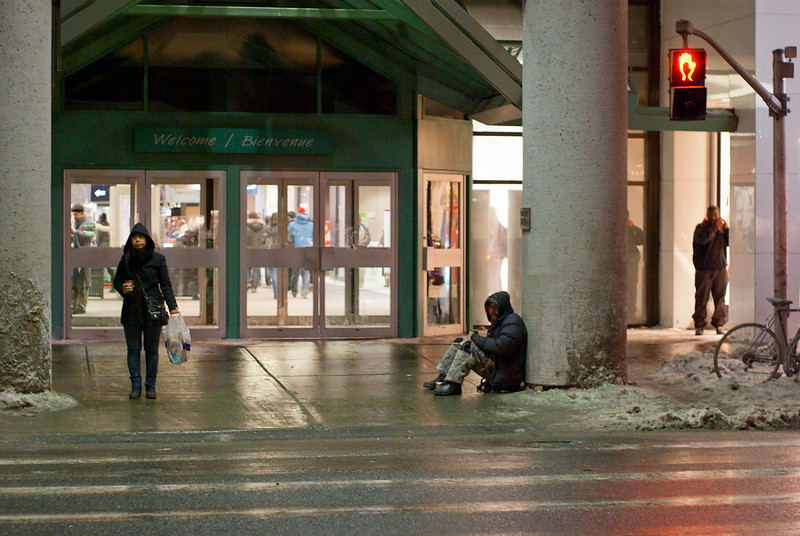 Photo credit: J Michel Carriere, flickr
The issue of affordability has headlined voters' concerns in the polls this election.
It's not hard to see why. Wages and incomes of most Canadians have barely kept up with the cost of living in recent decades as a large share of the gains from economic growth have gone mostly to high incomes and growing corporate profits.  Despite record-low unemployment rates, wage increases in Canada have remained stubbornly low, only recently showing increases above consumer price inflation.
Every party has stepped up to answer this burning ballot box question – how will you make life more affordable for Canadians? Some plans are better than others.
Raising wages is the single most important measure to raise the standard of living for a large majority of Canadians. The federal government can't directly affect wage growth for all workers, but it can increase the federal minimum wage, which the NDP, Liberals and Greens have promised to do. Providing decent wage increases for its own workers and federal contract employees indirectly helps, as public and private sector wage growth tends to move together.
The federal government can also make life more affordable by increasing and expanding direct social payments, income transfers and supports, such as the Guaranteed Income Supplement for Seniors, Old Age Security, Canada Pension Plan, Employment Insurance, Canada Child Benefit, student grants, disability, training and other supports. These benefits target specific groups—seniors, families with children, the unemployed, students— who need the most help.
The Conservatives have targeted their affordability message on boosting after-tax incomes by cutting tax rates and increasing tax credits and tax breaks. Party leader Andrew Scheer has campaigned on a pledge to put "more money in your pocket." Some platform promises include putting $850 back into the wallets of an average family, removing the GST from home energy bills to save households an average of over $100, and bringing back the public transit tax credit to save a family of four up to $1,000 annually.
These messages sound appealing to anyone who might expect a cheque right after the election, but in many cases, the amounts promised fall well below what's being advertised. The party's "universal tax cut" will take four years to phase in and then only provide an average of $360 per family, less than a dollar a day. Only a third of the population with taxable income over $52,000 will receive the full benefit and a third won't receive any benefit. While bringing back the public transit tax credit could save a Toronto family of four over $800 annually on their taxes –if they all have 12-month TTC passes and high enough incomes-- the average benefit will be far less, just $15 per family.
Tax cuts and breaks, unless they're refundable or phased out, almost always provide higher benefits to higher incomes. Take the Conservatives' plan to eliminate the $50,000 cap on passive investment for the millionaire owners of private corporations, which would provide each with an average tax benefit of $10,000.
The stimulative impact of most tax cuts, especially for corporations, is lower than most forms of public spending. Cuts and austerity measures risk suppressing growth. Stimulating the economy and creating jobs with public investments—including through infrastructure spending and programs such as a Green New Deal—are better approaches to stimulate job and wage increases. A study by the Canadian Centre by Policy Alternatives found the value of public services averaged $17,000 for each Canadian in 2006, with most receiving more than they pay in taxes, including at the federal level.
These are areas where the NDP, Greens, and to a lesser extent Liberals, have all promised to improve affordability in different ways. The NDP and the Greens have pledged to introduce a pharmacare program during the term of the next government. This would save the families $550 annually on average. The Liberals are promising to move forward on implementing national pharmacare although at a much slower pace. 
A national universal childcare program, as the NDP and Greens have proposed, could save a Toronto family with an infant in child care over $17,000 annually. The two parties are also promising free dental care for low-income Canadians, which would save individuals an average of $350 a year.
Other plans to reduce the cost of post secondary education by eliminating interest on student loans, providing more grants, and eliminating tuition would save students thousands of dollars a year. 
By far the biggest expense for most families is the increased cost of housing. The NDP promises to build 500,000 new affordable homes and provide a subsidy of up to $5,000 for low-income families struggling to pay their rent. The Greens vow to expand rental assistance and build more co-ops. The Liberals plan to enhance the First-Time Homebuyers Incentive and all major parties are offering incentives to make homes more energy efficient.
Just as the affordability equation is different for each family, every party is offering different measures to solve it -- and to solicit votes. Canadians should look beyond simple solutions and consider how the parties' different promises will improve affordability not just for themselves, but for others who need help the most. The affordability equation is one that we need to solve not just individually but also collectively, as a nation.