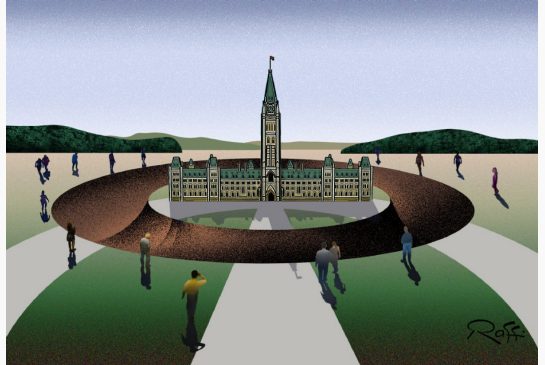 In a pre-emptive move, Royal Bank of Canada has agreed to give the Canada Revenue Agency records on hundreds of its clients revealed in the Panama Papers. The files stretch out over 40 years of RBC's involvement in Panama.
This is good news – but here's a backstory to consider: It wasn't a decision RBC took simply because it was the right thing to do. The Canada Revenue Agency went to the Federal Court with a motion to get those files. CRA argued that it needed to investigate whether the 429 offshore companies RBC set up or handled in Panama through Mossack Fonseca had been used to evade tax. It also came days before the International Consortium of Investigative Journalists releases a list of Canadian offshore companies registered in Panama, as well as the names of shareholders and directors.
Regardless of motive, RBC's move is a big deal. And it shows that public pressure is prying open the seal of silence around the tax haven industry. Now we wait for KPMG to follow Royal Bank's lead and do the right thing.
But that won't happen without a fight.
At Parliamentary hearings last week, KPMG exec Greg Wiebe repeatedly cited "client confidentiality" as he stonewalled committee members' requests to hand over the names of clients who received secret amnesties from the CRA for using a tax scheme in the Isle of Man. Three years ago a judge ordered KPMG to give the CRA client names and documents related to that scheme. KPMG refuses to comply. Liberal MPs on the committee bought the bogus "confidentiality" argument and forced a change in an NDP motion which originally wanted to "compel KPMG to provide documents indicating the names of clients who used the Isle of Man tax sheltering scheme and the names of KPMG employees responsible for the development and marketing of the tax scheme." The approved motion replaces the "compel" with "request" and a few other changes that weaken the committee's resolve.
Accountant /client privilege is not recognized in Canada – or the UK for that matter. UK law actually requires accountants to report clients who they suspect of committing tax evasion and failure to do so is punishable with up to 14 years in prison. As one Tax Fairness reader put it: "Parliamentary privilege 'trumps' solicitor client and settlement privilege. The Committee seems not to know the extent of its powers. To not challenge KPMG's claims of privilege is an abrogation of its responsibilities to Parliament and Canadian public."
We agree. Problem is, it is the big financial players who seem to be telling us that all is well. CRA says that there is one set of rules for everyone. Yet media regularly reports stories of KPMG secret deals and how rich evaders have been kept off the CRA wall of shame. From national petitions, to social media, to calls to MPs offices – it is clear that regular taxpayers don't buy it.
Wiebe says that KPMG doesn't do that kind of offshore business anymore. But he wouldn't tell the committee or journalists if any of those Isle of Man tax plans are still in play. That's an underwhelming response from a financial executive who is trying to convince us that he has seen the error of his ways. In an attempt at damage control, he describes himself as just a Winnipeg boy who made good at one of the world's big four accounting firms. Fact is, under his watch KPMG pocketed between $1.5 million and $1.6 million in fees, for a scheme that is likely to be found illegal - if the CRA ever makes the decision to take them to court for facilitating tax evasion.
If the government does not charge KPMG with facilitating tax evasion the sticking point may be that it was part of the secret deal CRA struck with KPMG as part of their sweetheart offer to their clients. CRA Commissioner Andrew Treusch refused to answer a question whether this was the case.
Wiebe likely knows that it isn't just their reputation that is at stake. KPMG makes an average $7Million in annual contracts for the federal government – most recently auditing the operations of the Senate of Canada. They would be barred from those contracts under the rules of the Government of Canada's Integrity Regime if they were found guilty of the crime of facilitating tax evasion.
Maybe then they would get the message that Canadians have had enough.
This blog was first published as MPs have the right to know who took part in tax scheme in iPOLITICS.ca