Photo: Joël Lightbound, Parliamentary Secretary to Canada's Finance Minister, speaks with MP John Penrose, UK Prime Minister Champion on Anti-Corruption. The United Kingdom is the first country to implement an open registry. The politicians were part of a panel on beneficial ownership registry at the Open Government Partnership Summit this week in Ottawa. Credit: Canadian for Tax Fairness
31 May 2019
One of the most important tools Canada can use to fight global corruption would cost less money to build than a few kilometres of road. That was the message delivered this week by John Penrose, a member of parliament for the UK government -- the first in the world to implement a publicly accessible registry.
Penrose was speaking at the 6th annual Open Government Partnership Summit in Ottawa, where experts and representatives from 79 countries gathered to discuss solutions for more transparent democracies across the world.
A key focus of this year's summit was the need for countries to take action against corruption by shining a light on anonymous owners of companies. Canada's money laundering problem has grabbed international attention, allowed criminal activity to grow in our communities, and contributed to inflated housing prices in British Columbia, where the government is introducing a public registry for properties to deal with the situation. Experts have called on the federal government and other provinces to do the same.
While B.C. has been a provincial leader on beneficial ownership, the U.K. has set an example for other regions around the globe. Penrose spoke about his government's decision to establish an open registry as an important means to fighting money laundering and other illicit activity. It is the poorest, the most dispossessed who are the true victims of corruption and they are the ones benefit most when you shine a spotlight on that corruption, the MP said.
Penrose was one of several experts to speak at a panel on beneficial ownership hosted by Canadians for Tax Fairness, Transparency International Canada, and Publish What You Pay Canada.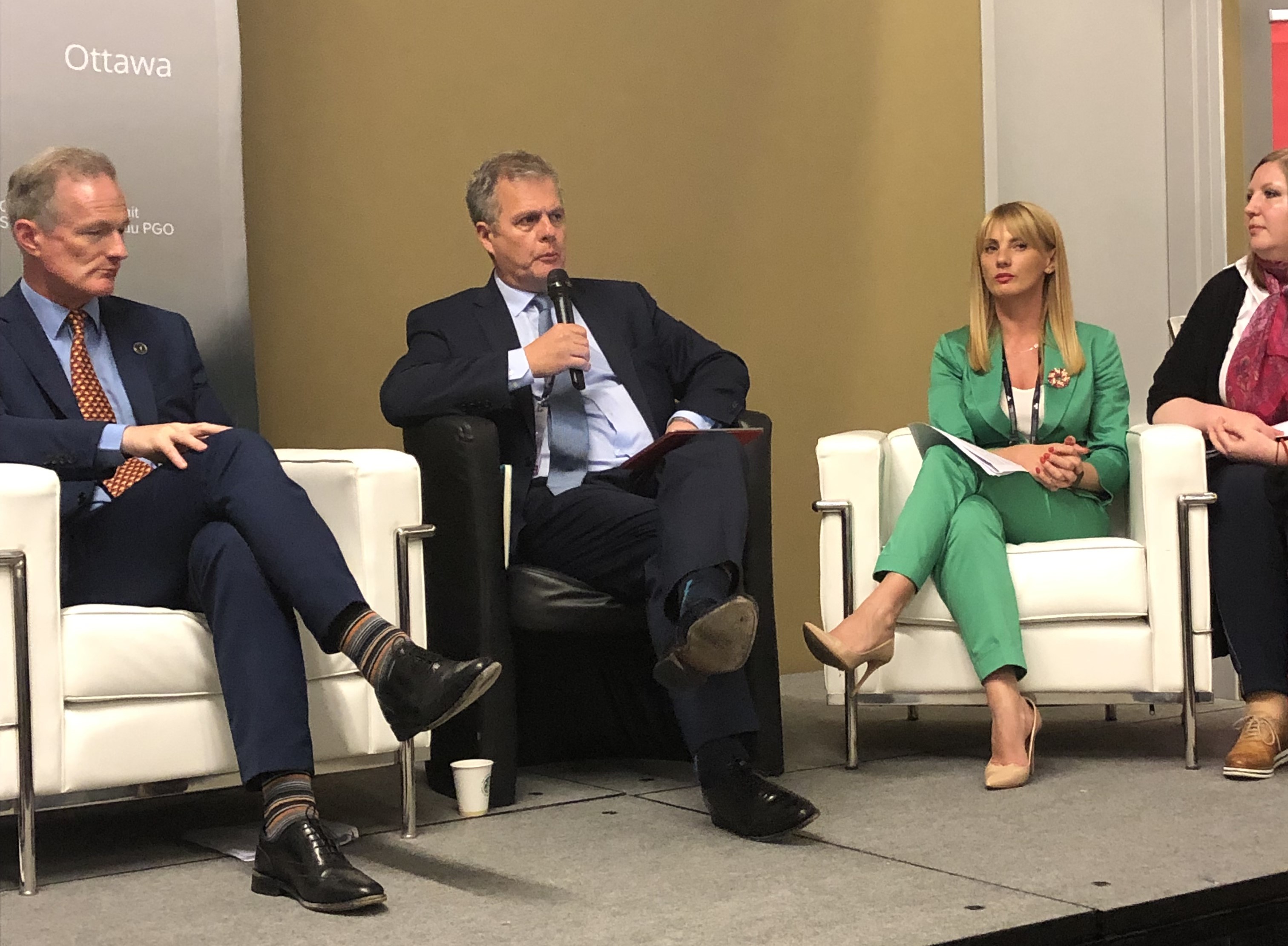 Left to right: MP John Penrose, UK Prime Minister Champion on Anti-Corruption, Mark Robinson, Executive Director, Extractive Industries Transparency Initiative, and Svitlana Hlushchenko​, Ukraine's Deputy Minister of Justice.
The joint-panel highlighted how public registries are quickly becoming the new global norm in the fight against corruption and how an international leadership group –the Beneficial Ownership Leaders Network-- is promoting the use of registries around the globe.
The discussion also heard from Ukraine's Deputy Minister of Justice Svitlana Hlushchenko. Ukraine is an early adopter of a public registry and Hlushchenko  described how the government  is taking a comprehensive approach to ensure its registry is in line with international best practices, including ID verification.
Governments have a vested interest in public registries to deter criminal activity and the negative effects of an underground economy. But they aren't the only ones who stand to gain. Business would also benefit from greater transparency and many of them have come on board, according to Robin Hodess, another panelist and the director of governance and transparency for the B Team, an advocacy group of global business leaders focused on improving social and environmental well-being.
Hodess says more representatives from the business community are recognizing the value of the open data tool, noting that at last year's B20 in Argentina, industry leaders called on governments to reduce business risks associated with anonymous company ownership. Public registries are increasingly seen as a critical due diligence tool for businesses to apply throughout their supply chain. Support for that open data is growing across multiple levels of industry from big banks to small businesses and even multinationals, she told the panel.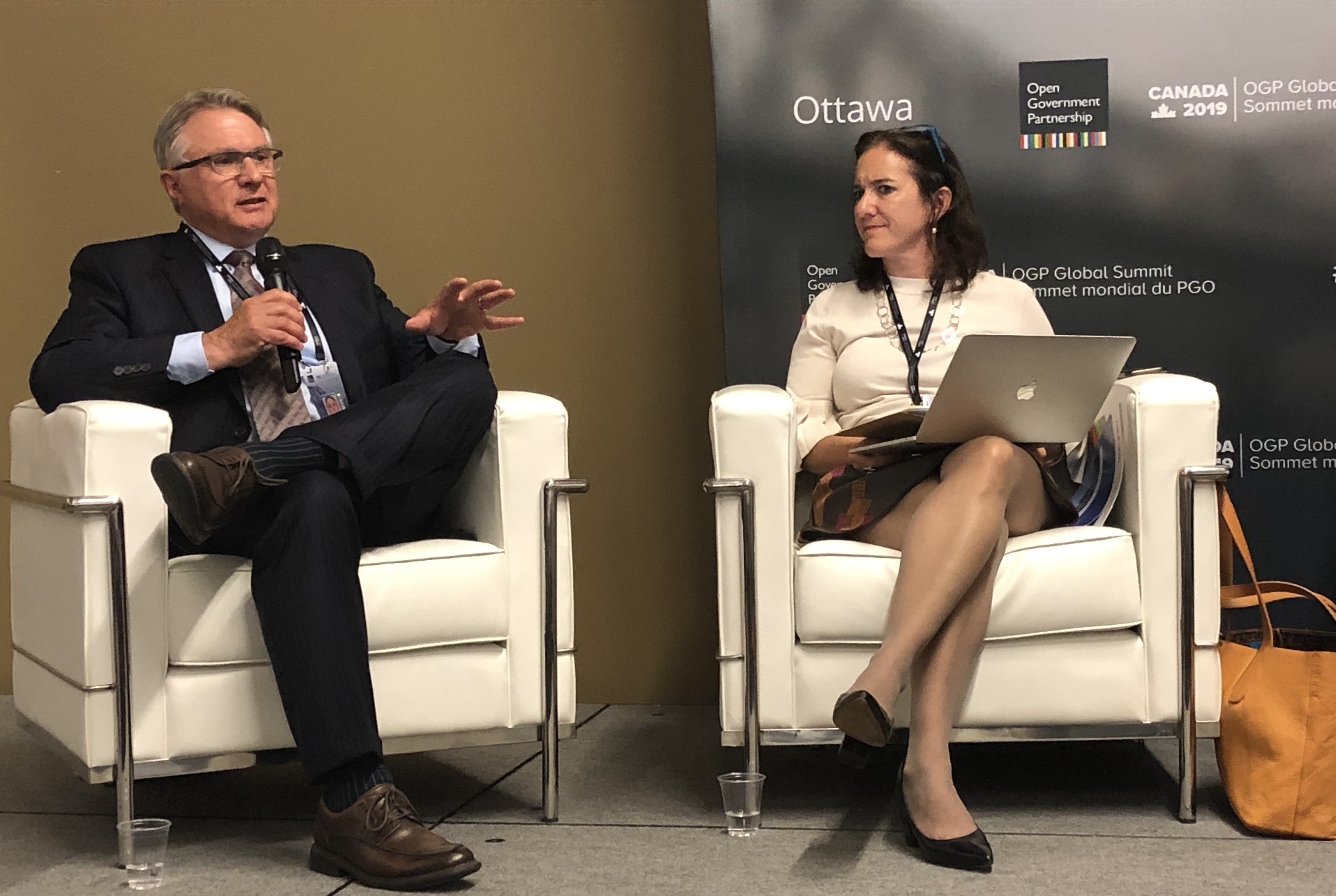 Panelists Denis Meunier, former deputy director of FINTRAC and Robin Hodess, director of governance and transparency for the B Team.
Law enforcement and regulators are also calling out for change. A former FBI official urged a Washington committee last week to implement a public registry in order to combat illicit activity. Similar pleas have been made by Canadian officials, including former deputy director of the RCMP Peter German whose hard-hitting report revealed Canada is dangerously behind in tackling money laundering.
"Canada is behind the eight ball," agreed panelist Denis Meunier,  former deputy director of FINTRAC, the federal agency that investigates money laundering.
Canada has one of the lowest rankings in the world for transparency and that has contributed to our massive money laundering problem, Meunier pointed out. 
He told the panel Canada can learn from the UK and Ukraine's lessons as those governments continue to assess and improve their open registries. In addition to deterring criminal activity and tax evasion, Canada should use its procurement power to require companies that bid on projects to provide full ownership disclosure.
While the federal government has not committed to creating an public registry, Joël Lightbound, Parliamentary Secretary to Finance Minister Bill Morneau, told the panel they are looking at all available options.
In his closing remarks, Lightbound commended the BC government for the step they have taken and said the federal government will continue working with the provinces and territories to improve transparency, information sharing, and the fight against money laundering.
Canadians for Tax Fairness is advocating for a pan-Canadian public registry to combat money laundering and tax evasion. You can help support our campaign by sending a message to Finance Minister Morneau. You can learn more about money laundering at endsnowwashing.ca