To keep our supporters informed and connected, we send a weekly newsletter with highlights of recent progressive tax developments in Canada and around the world. Please sign up here and share this newsletter with others. Here is this week's roundup of tax fairness news:
In an interview with the Toronto Star this week, federal NDP leader Jagmeet Singh said his party will tighten at least one of Canada's biggest tax loopholes by increasing the amount that the government taxes capital gains income – profits from selling capital investments for individuals.  These profits are now taxed at half the rate of ordinary working income, at a maximum federal rate of 16.5  percent instead of the 33 percent that applies to working income. Close to 90% of the value of this multi-billion dollar tax break goes to the top 1%.  The NDP is proposing to raise the "inclusion rate" from 50 percent to 75 percent so the top federal rate on capital gains would be 24.75 percent. The NDP estimates this would generate $2.7 billion annually for the federal government. 
We strongly welcome this proposal as it would restrict one of Canada's biggest and most regressive tax loopholes. Earlier this week, the NDP also said it will focus on Canada's tax gap in the upcoming election to promote large scale investments such as a national pharmacare plan. Finance Critic Peter Julian said he will be closely watching the release of the Parliamentary Budget Officer's tax gap report later this spring. The independent report provides an estimate of how much government revenue is lost to tax evasion each year. We hope to see more specific policy proposals from all the parties' platforms as we campaign to ensure tax fairness enters the election conversation.
Nova Scotia and Quebec budgets
Both Nova Scotia and Quebec tabled budgets this past week, but one offered much more than the other in terms of progressive tax initiatives. Most of Nova Scotia's budget was business as usual with no new taxes or remarkable investments.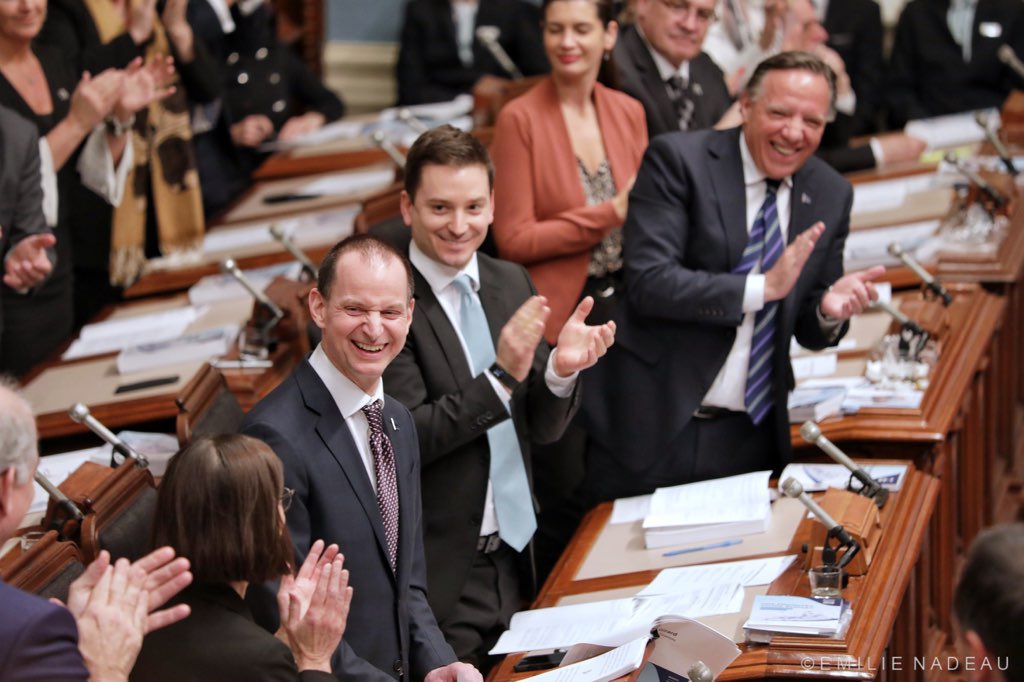 Quebec Finance Minister Eric Girard receives applause after delivering the province's budget last week.
Meanwhile, Quebec took some positive steps forward in its budget, including cutting the fees for childcare, increasing exemptions for support payments for dependent children, and investing more in public services. With Quebec's low unemployment rate, the budget also includes tax credits for hiring and retaining older workers and tax incentives for specific investments.
Quebec has been a Canadian leader in combatting tax avoidance through e-commerce. This budget continues that by requiring anyone operating a digital lodging service in the province to charge and remit the 3.5 percent lodging tax, levelling competition for other local hospitality companies. Revenue Québec and CRA have also established a strategic committee to enhance monitoring of Quebec companies' international business activities and restrict tax avoidance measures.
Happiest countries most heavily taxed
The world's happiest citizens have something in common: high tax rates and social spending levels. Those were some of the findings in this year's World Happiness Report.  The United Nations surveyed 156 countries on measures ranging from healthy life expectancy to social support. When it came to happiness, Finland took top spot, followed by Norway, Denmark and Iceland – all countries with the largest tax rates and social safety nets in the world. Canada came in 9th place and the US fell to 19th while nations such as Haiti and South Sudan landed at the bottom of the list. There were other distinctions beyond taxes worth exploring. As some of our Facebook followers pointed out when we shared the story this week, some of the happiest countries also had a lot of trust in their government, proportional representation and the option of automatic tax filing to make things easier for residents.
Tackling poverty with progressive property taxes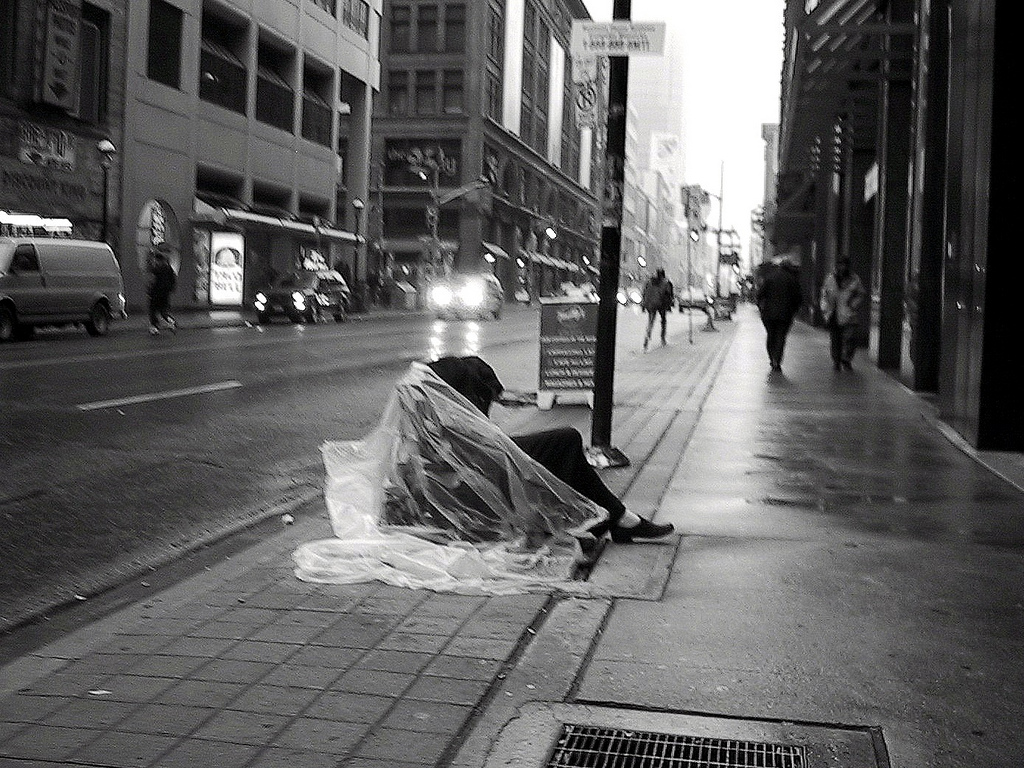 A homeless person sits on Yonge Street in Toronto, where municipal politicians are exploring progressive tax solutions to the city's homelessness crisis. Wikimedia commons.
Our society's stark inequalities are often most glaring in large cities where the ultra-wealthy live within steps of homeless people, many pushed out of their homes by rising property values, rents, and "renovictions" (evicting tenants to undergo renovations). To address this problem, most municipal budgets rely heavily on regressive property taxes and user fees, but some politicians are proposing new measures to reduce both inequalities and homelessness at the same time.  
The City of Toronto is considering hiking the tax it applies on sales of multimillion dollar homes to raise money that could help fund solutions to its homelessness crisis. Toronto currently applies a 2.5 percent land transfer tax on properties that are sold for $2 million and more. This proposal would raise the rate to 3 percent on homes sold for over $3 million and 4 percent on homes sold for over $4 million. The hike could raise enough to provide a housing allowance for about 1,000 low income families.  
It's just one of different progressive property tax proposals being considered by cities around the world. New York City is considering a special "pied-à-terre tax" on the multimillion-dollar homes of the super-rich that aren't their primary residence—their pieds- à -terre—at an annual rate of 0.5% to 4%. British Columbia introduced a speculation and vacant homes tax of 0.5% for domestic and 2% for foreign owners. Vancouver applies an additional 1% tax on empty homes. Some apply progressive property tax rates, with higher property tax rates on more valuable residences, while also providing rebates for seniors and others with low incomes.
Tax fairness one key to easing financial woes 
Almost half of Canadians are worried about the rising cost of living, but progressive solutions such as fairer taxes could ease some of that anxiety, according to a new Abacus Data poll released at the Broadbent Institute's annual Progress Summit.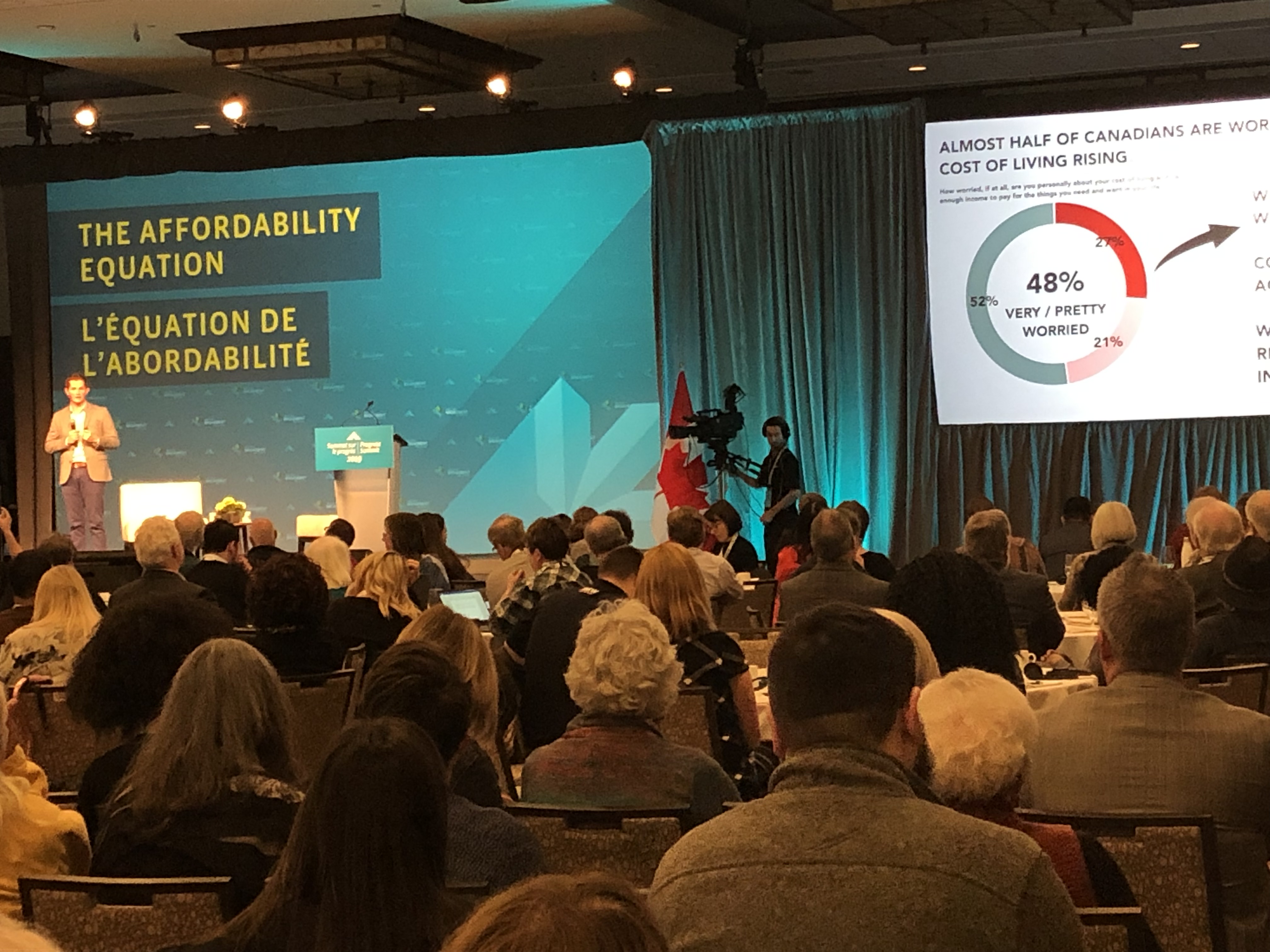 Results of the survey were presented at the 2019 Progress Summit this week.
The Broadbent-commissioned survey found most Canadians see income inequality worsening while corporate profits keep climbing. More than half, 57 percent, said issues such as fairer wages and taxes will play a critical consideration in how they vote this fall while 41 percent believed it would "help a lot" to raise taxes on wealthier Canadians and large corporations in order to pay for better services.
The survey noted that our widespread anxiety could be problematic, but it's encouraging respondents saw hope in investments such as public health and secure employment – policy areas government would be wise to prioritize as Canadians head to the polls in October. This survey confirms similar results to the extensive OECD Risks that Matter report released last week.
Taxation and the future of work
There's been a massive increase in precarious work, such as short-term gigs, contract, temporary, side-hustles and other employment lacking job security or benefits. Most commentaries on rising employment precarity have pinpointed technology, global competition, and changing business structures as the main factors for this increase, but the OECD is now fingering differential tax treatments as a major cause for the shift towards "non-standard work."  Lower tax and payroll rates for the self-employed create a large incentive—with cost savings for precarious employment of up to 37% in some countries—on top of the other savings associated with lower benefit costs and passing risks onto workers. While non-standard work arrangements may save business bundles, the rest of the population pays, not just in lower tax revenues but in damaging social, health, welfare and psychological costs.