The Great Revenue Robbery: How to Stop the Tax Cut Scam and Save Canada
Edited by Richard Swift for Canadians for Tax Fairness. 
Faced with growing inequality and cutback to government programs, public opinion polls show strong support for tax fairness, including raising taxes on the rich and on corporations. The Great Revenue Robbery shows us how tax policy can help rebuild our social programs, reduce the gap between rich and poor, restore environmental responsibility, and revitalize our democracy.
Contributors to this book include: James Clancy, Dennis Howlett, Trish Hennessy, Diana Gibson, Peter Gillespie,  Jim Stanford, Toby Sanger,  Joe Gunn, John Restakis and Murray Dobbin.
Order your copy of the book from our publisher, Between the Lines(link is external)..
More information about the book.
Tax Is Not a Four Letter Word
Edited by Alex and Jordan Himelfarb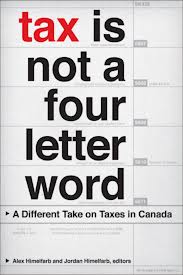 This book provides new information on how taxation, and our thinking about it, has changed. The contributors present data that shows what we get for what we invest and what we lose when we pay less. It also explores how citizens came to think of tax cuts as the "last free lunch". This book takes a positive approach to opening up public discussion and creating a political will to do better. 
Find out more about this book 
Hidden Wealth of Nations 
by Gabriel Zucman 
Gabriel Zucman explains the scourge of tax havens in a surprisingly accessible and lucid prose in his new book, 
The Hidden Wealth of Nations

(link is external)
. This slim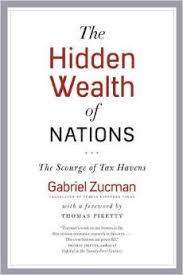 but fact filled book however, underestimates the scope of the problem. He short changes the depth of the problem by relying on only one of several methods needed to calculate  hidden wealth.
He estimates that globally about 8% of households' financial wealth is held in tax havens. That works out to be about $7.6 trillion dollars or about $200 billion a year in lost revenue. He arrives at these numbers by comparing the national balance sheets to identify the difference between the assets and liabilities between nations. This seems like an elegant and simple solution to estimating what is hidden in tax havens.  But Zucman admits that this estimate "excludes a certain amount of wealth."
Zucman's book contains a few surprises regarding Canada's connection with tax havens. He estimates that Canada's offshore wealth is $300 billion as compared with the official Statistics Canada figure of
 $199 billion
. The share of financial wealth held offshore by Canadians, he estimates is 9% of total wealth. This is much higher than the U.S. (at 4%) but comparable with Europe (at 10%). Zucman estimates Canadian tax revenue loss at $6 billion, which is a bit lower than my own estimate of $7.8 billion, but his global estimate of hidden wealth is on the low side as well.
The Trouble with Billionaires
Authors: Linda McQuaig, Neil Brooks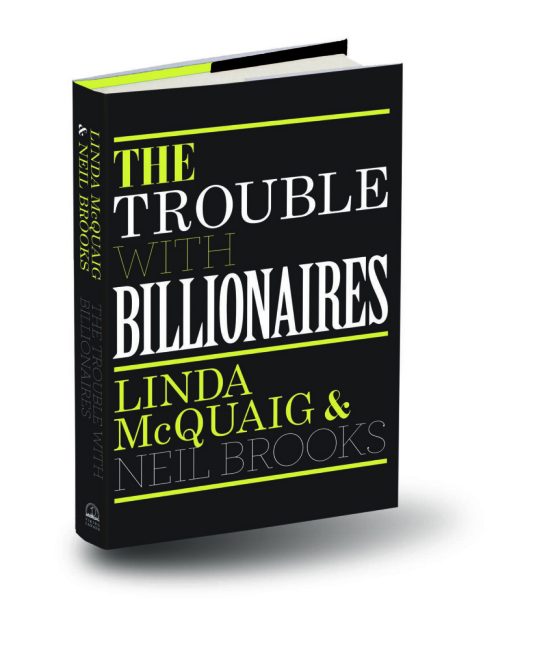 The glittering lives of billionaires may seem like a harmless source of entertainment. But such concentrated economic power reverberates throughout society, threatening the quality of life and the very functioning of democracy. It's no accident that the United States claims the most billionaires – but suffers among the highest rates of infant mortality and crime, the shortest life expectancy, as well as the lowest rates of social mobility and electoral political participation in the developed world.
North American society tends to regard large fortunes as evidence of great talent or accomplishment. Yet the vast new wealth isn't due to an increase in talent or effort at the top, but rather to changing social that legitimize greed and government policy changes that favour the new elite. Authoritative and eye-opening, The Trouble with Billionaires will spark debate about the kind of society we want. Find out more about this book.
Canada: A New Tax Haven
​by Alain Deneault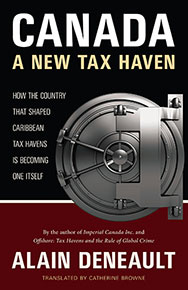 In Canada: A New Tax Haven, Alain Deneault traces Canada's relationship with Commonwealth Caribbean nations back through the last half of the twentieth century, arguing that the involvement of Canadian financiers in establishing and maintaining Caribbean tax havens has predisposed Canada to become a tax haven itself – a metamorphosis well under way. 
"Deneault shows that the tax-haven problem is not simply a problem of illegal tax evasion or money laundering by the underground economy or criminal gangs but a much larger issue of how the Canadian state has legalized the use of tax havens by large corporations so that they can evade paying their fair share of taxes."
– Dennis Howlett, Canadians for Tax Fairness
For more information and to order the book go to: Talon Books web site.