For Immediate Release
April 24, 2019
OTTAWA – Canadian corporations increased the money they report in Canada's top 12 overseas tax havens by almost 10% to a record high of $353 billion in 2018, according to Statistics Canada Foreign Direct Investment figures released today. 
Topping the list is the $90 billion Canadian corporations have in Luxembourg, an increase of 10 percent from the previous year. Another $65 billion went to Barbados, followed by $47 billion in Bermuda, and $40 billion in the Cayman Islands. Three years after the Panama Papers leak that exposed how many wealthy individuals and corporations were hiding their money in tax havens, the amount officially reported by Canadian corporations in Panama increased by 9% and by 50% in the British Virgin Islands, another top tax haven for Canadians.
"Despite all the leaks and claims of action to crack down on tax havens, corporate Canada's use and abuse of tax havens continues to grow", said Toby Sanger, executive director of Canadians for Tax Fairness.
"Government clearly hasn't fixed its multi-billion-dollar problem of tax haven use. By channeling funds to low-tax jurisdictions, corporations and wealthy investors continue to enjoy all the benefits of living in Canada without fully contributing to the very services and programs they use. We clearly need both tougher enforcement and tougher laws."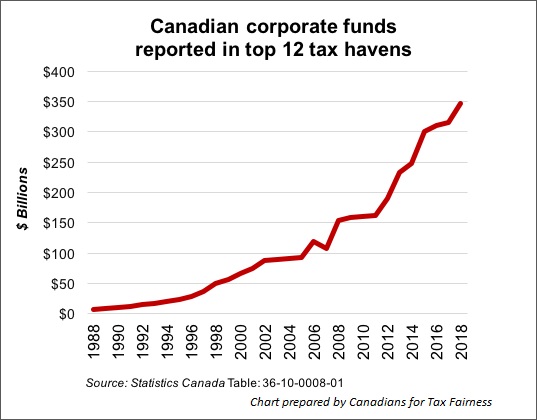 No Canadians have yet been charged with tax evasion related to the Panama Papers or Paradise Papers leaks, unlike in other countries. Canadians for Tax Fairness estimates that Canada loses at least $8 billion annually from the use and abuse of international tax havens and profit shifting. The main beneficiaries are mega-corporations that can exploit international tax laws to their advantage while ordinary Canadians—and small and medium-sized businesses—lose out. 
Canadians for Tax Fairness, other tax justice organizations and international experts have proposed measures that Canada should adopt to significantly reduce the abuse and revenues lost through tax havens and to reform international tax rules that even the head of the IMF recently described as "fundamentally out of date". 
"In this election year, we certainly hope federal political parties will make commitments to seriously address tax dodging by wealthy and large corporations, concluded Sanger. 
-30-
Canadians for Tax Fairness advocates for fair and progressive tax policies aimed at building a strong and sustainable economy, reducing inequalities and funding quality public services.
Contact:
Erika Beauchesne, Communications Coordinator
erika.beauchesne@taxfairness.caerika.beauchesne@taxfairness.ca
613-315-8679
Toby Sanger, Executive Director
613-720-6955
@cdntaxfairness
English