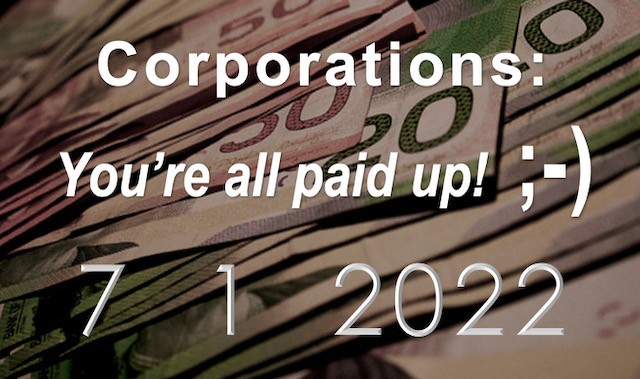 MEDIA RELEASE: Canada's corporations made enough income by January 7th to pay all their taxes for 2022

13 January 2022
OTTAWA – Canada's corporations made enough money by 12:33am on January 7th to pay all of their corporate income tax for the year 2022, according to a new
report
by Canadians for Tax Fairness, which named the date
Corporate Income Tax Freedom Day
.
"How is it fair that the average Canadian corporation only pays a week's worth of income towards the public services we all need, when the average Canadian contributes a couple of months worth of income in taxes?" said the report's author, economist Dr. D.T. Cochrane. "It's especially outrageous when corporations have received hundreds of millions of dollars in support from Canadian governments."
Corporate Income Tax Freedom Day
is coming earlier and earlier in most recent years. Government tax cuts and corporate tax dodging have shifted
over $1.1 trillion dollars
from federal and provincial governments to corporations over the last two decades, according to the
report
.
"The solutions are clear, easy to implement, and Canada's corporations can easily afford to contribute their fair share," said Dr. Cochrane. "The federal government should raise the corporate income tax rate from 15% to 20%, and tax excessive pandemic profits, especially from corporations that got public subsidies."
The report also called on the federal government to close tax loopholes, improve corporate transparency, increase investment in the CRA, and implement a minimum tax on profits recorded in foreign jurisdictions.
---
COMMUNIQUÉ DE PRESSE : Les sociétés canadiennes ont réalisé suffisamment de revenus au 7 janvier pour payer tous leurs impôts pour 2022
Pour diffusion immédiate : 13 janvier 2022
OTTAWA - Les sociétés canadiennes ont gagné suffisamment d'argent à 0h33 le 7 janvier pour payer la totalité de leur impôt sur leur revenu pour l'année 2022, selon un nouveau
rapport
de Canadiens pour une fiscalité équitable, qui ont nommé cette date Journée de libération de l'impôt sur le revenu des sociétés.
« Comment se fait-il que la société canadienne moyenne ne paie qu'une semaine de revenu pour les services publics dont nous avons tous besoin, alors que le Canadien moyen contribue à l'impôt sur le revenu pendant deux mois ? » a déclaré l'auteur du rapport, l'économiste Dr. D.T. Cochrane. « C'est d'autant plus scandaleux que les sociétés ont reçu des centaines de millions de dollars de soutien des gouvernements canadiens. »
La Journée d'affranchissement de l'impôt sur les sociétés arrive de plus en plus tôt ces dernières années. Les réductions d'impôts accordées par les gouvernements et l'évasion fiscale des sociétés ont permis de transférer plus de 1,1 billion de dollars des gouvernements fédéral et provinciaux aux sociétés au cours des deux dernières décennies, selon le
rapport
.
« Les solutions sont claires et faciles à mettre en œuvre, et les sociétés canadiennes peuvent facilement se permettre de contribuer leur juste part », a déclaré le docteur Cochrane. « Le gouvernement fédéral devrait augmenter le taux d'imposition des sociétés de 15 à 20 %, et taxer les bénéfices excessifs liés à la pandémie, en particulier ceux des sociétés qui ont obtenu des subventions publiques. »
Le
rapport
appelle également le gouvernement fédéral à supprimer les échappatoires fiscales, à améliorer la transparence des entreprises, à augmenter les investissements dans l'ARC et à mettre en place un impôt minimum sur les bénéfices enregistrés dans des juridictions étrangères.

Contact médias : Darren Shore, Coordonnateur des communications, Canadiens pour une fiscalité équitable ; darren.shore@taxfairness.ca
English