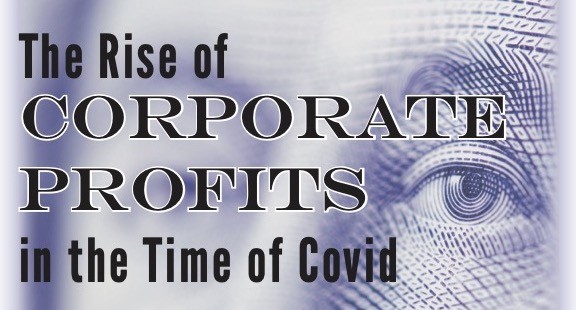 [français ci-dessous]
MEDIA RELEASE
Budget should tax record-breaking 2021 corporate profits linked to inflation and inequality: new report
For immediate release : Wednesday, 6 April 2022
Profit margins in 2021 exceeded 20-year averages for corporations in all of Canada's major economic sectors, the report showed. Last year's profit margins averaged 16% overall, with the finance/insurance/real-estate sector boosting margins to 22%.
These profits come at a time when the effective average combined federal-provincial corporate tax rate
hit an all-time low
of just 16.6%.
"The government can't justify maintaining ultra low tax rates when these companies are making record profits and inflating prices for our basic necessities" said the report's author, Dr. DT Cochrane. "It's time to reign in corporate profits with fair taxation."
The report calls on the government to tax the excess profits of corporations in all sectors, close egregious loopholes such as the 50% tax rate reduction for capital gains income, increase the federal corporate income tax rate from 15% to 20%, and require transnational companies to be transparent about their earnings and taxes paid.
"Budget 2022 is a chance to address inequality and inflation by rebalancing our tax system so the richest corporations pay more of their fair share," said Dr. Cochrane. "Canadians across political lines overwhelmingly support fairer taxes, and those with less should not be paying for record profit margins that benefit those with the most."
===
[TRADUCTION]
COMMUNIQUÉ DE PRESSE
Le budget devrait taxer les bénéfices records des entreprises en 2021 liés avec l'inflation et les inégalités : nouveau rapport
Pour diffusion immédiate : mercredi 6 avril 2022
Par Canadiens pour une fiscalité équitable
Les sociétés canadiennes ont réalisé des marges bénéficiaires record en 2021, qui contribuent à l'inflation et aggraveront les inégalités, selon un nouveau rapport de
Canadiens pour une fiscalité équitable
:
The Rise of Corporate Profits in the Time of Covid
[disponible en anglais uniquement].
Les marges bénéficiaires en 2021 ont dépassé les moyennes des 20 dernières années pour les sociétés de tous les principaux secteurs économiques du Canada, selon le rapport. L'an dernier, les marges bénéficiaires étaient en moyenne de 16 % dans l'ensemble, avec le secteur de la finance, de l'assurance et de l'immobilier ayant fait grimper les marges à 22 %.
Ces bénéfices surviennent à un moment où le taux d'imposition effectif moyen combiné fédéral-provincial des sociétés a atteint un plancher historique de seulement 16,6 %.
« Le gouvernement ne peut pas justifier le maintien de taux d'imposition ultra-bas alors que ces entreprises réalisent des bénéfices records et font grimper les prix de nos produits de première nécessité », a dit l'auteur du rapport, DT Cochrane. « Il est temps de maîtriser les bénéfices des entreprises par une fiscalité équitable ».
Le rapport demande au gouvernement d'imposer les bénéfices excessifs des sociétés de tous les secteurs, de supprimer les échappatoires flagrantes telles que la réduction du taux d'imposition de 50 % pour les revenus des gains en capital, d'augmenter le taux d'imposition fédéral des sociétés de 15 % à 20 %, et d'exiger des sociétés transnationales qu'elles soient transparentes quant à leurs gains et aux impôts payés.
« Le budget 2022 est l'occasion de s'attaquer aux inégalités et à l'inflation en rééquilibrant notre système fiscal afin que les sociétés les plus riches paient davantage leur juste part », a déclaré DT Cochrane. « Les Canadiens, toutes tendances politiques confondues, soutiennent massivement des impôts plus équitables, et ceux qui ont moins d'argent ne devraient pas payer pour des marges bénéficiaires record qui profitent à ceux qui ont le plus d'argent. »
- END / FIN -
 
English