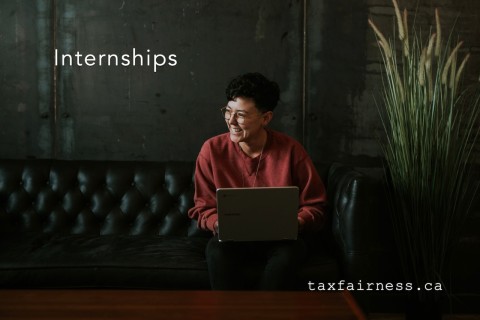 *NOTE: Our Fall 2022 Internship position has been filled.
==================
The Murray Dobbin

Corporate Tax Research and Communications Internship
Canadians for Tax Fairness (C4TF) offers a full-time paid research and communications internship for co-op students during academic trimesters.
Summary
The student will assist with various tasks under the supervision of C4TF's Economist, DT Cochrane, as well as Communications Coordinator Erika Beauchesne. Tasks include doing data-based research and co-producing publications related to tax fairness, designing and packaging the research for the wider public, and promoting it via social and traditional media. Our major research focus in Fall 2022 is corporate taxation, including subjects such as which major Canadian corporations are Canada's worst tax dodgers, and how our tax system hinders and can help our transition to a strong and equitable low-carbon economy.
WHO SHOULD APPLY
The internship is ideal for students in economics, accounting, political science, sociology, anthropology, journalism, marketing, and finance students with progressive values, who are able and interested in conducting data-driven research on corporate tax avoidance and systemic corruption. All applicants should have an interest in doing detailed research on questions of finance, corporations, and capitalism more broadly. Applicants should also want to work for an organization focused on raising awareness about tax justice, and increasing democratic control of government revenue and spending. C4TF encourages racialized and Indigenous Canadians, women, people who identify as LGBTQ+, and students with disabilities to apply.
LOCATION
Students work from home, as C4TF staff currently do. We currently have colleagues in Ottawa, Toronto, Montreal and Peterborough Ontario, and our Board of Directors comes from across Canada. On occasion, we meet in Ottawa or elsewhere.
EVALUATION
C4TF staff complete evaluations of the work term in accordance with University policies, and offer students regular feedback on their work. Moreover, most work at the organization is in the form of joint projects, and regular interaction on each project is ongoing, including meetings, shared documents, calls and and emails.
RESPONSIBILITIES AND FUNCTIONS
Data gathering: Work with other C4TF researchers to identify data needs, locate potential data sources, collect and organize data.
Data analysis: Perform preliminary data analysis, and visualization. Work with other C4TF researchers to identify potentially useful data analyses. Transform data into formats that are understandable by the C4TF audience.
Preliminary literature reviews: Identify, locate, gather, and synthesize relevant literature for research projects. Potentially liaise with academics, other researchers, allied organizations, etc. to gain or improve understanding of the relevant literature. 
Report writing: Initiate, write and assist other C4TF staff in writing reports about issues related to fair taxation.
Report production: Transform text and numerical reports into professional PDF formats designed for web and print, including images, tables and graphs.
Op Ed and blog writing: Help write and edit drafts of blog posts, articles, and Op Eds based on our reports.
Report to C4TF staff, including weekly summaries of tasks completed
Execute other related tasks.
FLEXIBILITY AND DIVERSITY OF TASKS
Students are assigned a variety of tasks customized to their skills and interests, so as to ensure a diverse and rewarding learning experience. The organization recognizes the value of making best use of any student's strengths, and can adjust work tasks accordingly.
DAILY ROUTINE
Generally, the student will have a morning meeting with a staff member, to discuss tasks and check in. Throughout the day, the team discusses ongoing tasks and projects by email, phone, text, and video calls as needed, while collaborating using Google Suite. Intern assignments are discussed and clearly written, and an assignment list helps interns keep track of completed, current, and upcoming tasks. There is usually a weekly meeting with all staff and interns, and occasional meetings with individuals from allied organizations. Otherwise the work day is fairly flexible.
QUALIFICATIONS
Excellent research and writing skills, including the ability to present complex findings in a clear and concise manner for a lay audience.

Basic understanding of, and interest in, economics, finance and taxation, and the connection among these fields and a society's ability to reduce financial and social inequalities.

Basic quantitative skills, including the ability to use Excel, or a similar program, is an asset.

Fluency in spoken and written English. (Strong written and spoken French is an asset.)

Ability to communicate professionally with a large variety of people in a manner appropriate to a credible organization with good national media presence.

Capacity to work autonomously and respect deadlines with minimal supervision.
EQUIPMENT
Interns are expected to have access to their own computers, as they will be working from home. The intern will not be required to pay for purchasing any software.
TRAINING
Training is provided by C4TF staff during work hours, who remain available to be contacted throughout the day. Documents to assist students integrate are available.
HOW TO APPLY
Send one PDF document to office@taxfairness.ca that includes:
1. Required: A CV that is maximum 2 pages in length, with an email address and a telephone number.
2. Required: A Letter of Intent, which is no longer than 500 words and answers the following questions:
  a) How can your work and/or volunteer and/or educational experience help you accomplish the tasks and responsibilities that you will be required to complete as a part of this internship?
  b) How will this internship help you achieve your future career objectives?
  c) How are the goals of C4TF as an organization personally important to you?
  d) What is your availability? (Will you do the 12-week or 14-week internship? On what date can you begin, and on what date must you end your internship? Are there any days and/or times when you are unavailable?)
Optional: The CV and/or letter of intent in that document may, if you wish, include hyperlinks to a) letters of recommendation, and/or b) other work you have done, in any format, which shows your aptitude for the internship, including research, written articles, audio or video productions, or other material you deem relevant.