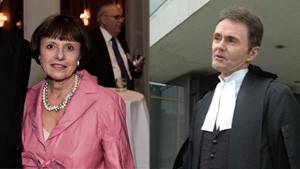 Ontario Senator Vern White, a former Police Chief, has written the Senate Ethics Officer asking for an investigation into the offshore holdings of one of his Senate colleagues. 
Here is part of his statement:
On May 23rd, 2013, a news account on CBC World Report focused on the financial dealings of Senator Merchant and her husband, Tony Merchant.
"The story alleges that the CBC has obtained documents that show Senator Merchant is the beneficiary to a $1.7 million trust set up off shore by her husband.  The story also indicates that the CBC first reported on this matter on April 3, 2013."
"Given the nature of offshore trusts, often set up as tax havens, the story raises serious questions under the Conflict of Interest Code for Senators."  
"Pursuant to Section 44(2) of the Code, I have written a letter asking the Senate Ethics Officer to initiate an inquiry into the matter.  I have encouraged the Ethics Officer to explore whether the trust does or did exist as well as asking the Senate Ethics Officer to consider if our code has the sufficient guidelines regarding such matters." 
Tony Merchant's potential involvement in using tax havens to avoid the CRA came up in a globally broadcast story earlier this spring.  His name was one of 450 Canadians who appeared to have dealings with tax havens on the British Virgin Islands.  But aside from his colleague Senator Percy Downe, who has been vocal and persistent on Canadian tax haven abuse - the Senate has been silent on the issue.   
While this goes on however, Canadian tax haven use has reached an all-time high with $170 billion stashed offshore.