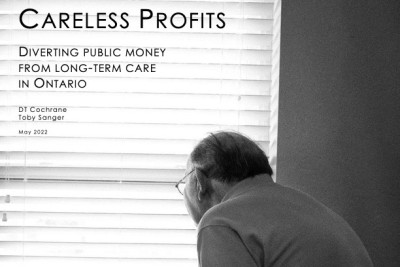 (Ontario) - An estimated $3.8 billion in public funding provided to long-term care operators in Ontario was syphoned off as profit during the decade before the COVID-19 Pandemic, contributing to poor care conditions linked to over a thousand deaths in for-profit facilities over the last two years, according to a new report by Canadians for Tax Fairness, 'Careless Profits: Diverting public money from long-term care in Ontario'.
During the pandemic, rates of death were much higher in for-profit LTC than in non-profit facilities. Had for-profit operators maintained a level of care that aligned them with the rates of death experienced in Ontario's municipal LTC facilities, 1,413 lives could have been saved in 2020, during the most deadly wave of the pandemic, estimates the report. Over half of long-term care (LTC) in Ontario is run by for-profit companies, and advocates have long been calling for that to change.
"The COVID-19 pandemic has exposed grave problems in how we provide care for our most vulnerable," said Dr. Amit Arya, palliative care physician working in long-term care facilities and co-founder of Doctors for Justice in Long-Term Care. "In particular, the dangers of a system which prioritizes the profits of corporations over human life have resulted in a humanitarian tragedy in long-term care. For-profit long-term care must end."
The report also shows that some for-profit LTC operators use tax avoidance schemes to reduce the amount they pay back into the public purse. Revera, the largest LTC operator in Ontario, has multiple subsidiaries in tax havens. Unfortunately Canada's lack of financial transparency laws means that the public cannot know the true cost of tax avoidance by for-profit LTC operators. Information available for three publicly-held companies indicates that together, they have potentially avoided about $500 million in taxes between 2010 and 2019.
"The COVID-19 pandemic showed that we have paid a terrible price because corporations extracted profits from our long-term care system. These companies prioritize profits over care while avoiding taxes, the very thing that supports our care system," said DT Cochrane, economist for Canadians for Tax Fairness and co-author of the report.
The report recommends that for-profit facilities in Ontario be required to publicly report their financial, ownership, and staffing information as a condition of public funding, and sign an agreement that they will not partake in tax avoidance strategies. Ultimately, Ontario should create a plan to phase out funding for for-profit LTC and build a more robust non-profit system that performs better in terms of level of care, the report notes.
"Ontarians deserve to know how their money is being spent and have some say, especially when the care of our loved ones is at stake," said Katrina Miller, Executive Director of Canadians for Tax Fairness. "We need full transparency when private companies take public funds, and a shift towards non-profit structures where care doesn't compete with profit margins."
Canadians for Tax Fairness (C4TF) is a non-profit, non-partisan organization that advocates for fair and progressive tax policies, aimed at building a strong and sustainable economy, reducing inequalities, and funding quality public services.