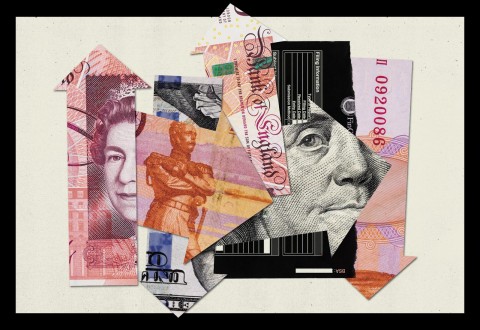 Graphic by ICIJ
Some of the world's biggest banks are helping criminals move dirty money through the system, according to a new investigation by BuzzFeed News and the International Consortium of Investigative Journalists.
Reporters obtained leaked government documents including thousands of suspicious activity reports filed by the U.S. Financial Crimes Enforcement Network, FinCEN, the American financial intelligence unit.
Banks are required to file suspicious activity reports, but the transactions aren't necessarily shut down or investigated. On the contrary, the FinCEN files found that Western banks often kept dirty money flowing while collecting their fees.
The investigation includes a number of high-profile banks such as HSBC, Bank of America, Citibank, JPMorgan Chase, and American Express , which together processed billions in sketchy transactions such as Ponzi schemes, money laundering for drug traffickers and terrorists, and transfers to corrupt government officials.
The suspicious activity reports (SARs) reference individuals from more than 170 jurisdictions. While the U.S., Russia, and U.K. rounded out the top three, Canada ranked as the 7th highest among countries.

Major Canadian banks including CIBC, RBC, TD, Bank of Montreal, UBS and HSBC Canada, also were involved in 183 suspicious transactions --$15.6 million coming in and $16.9 million going out, the investigation found.
In one case identified by reporters, money was wire transferred to Canada for fentanyl deliveries with the ringleader operating from a Canadian jail cell.
The FinCEN files are a warning of inadequate internal bank controls and compliance measures. Reports failed to disclose key facts about customers such as the beneficial owners of accounts involved in half the transactions, a story by Radio-Canada points out. Bank officials complained that their own internal control and compliance measures are wholly inadequate.
It's not only financial institutions that enable illicit activity, but weak government policies.
For years now, Canada has been plagued with a money laundering problem, earning international headlines as a safe place for criminals to clean their dirty cash using anonymously owned shell companies and real estate -- a practice known as 'snow-washing'.
This latest investigation confirms that Canada remains an attractive place for bad actors to funnel dirty funds and that stronger transparency rules are needed to help law enforcement, tax authorities, journalists, and the public identify who ultimately controls accounts.
Canadians for Tax Fairness, Transparency International, and Publish What You Pay Canada have long advocated for a public registry of beneficial owners to make it harder for criminals to hide in the shadows. Increased resources for FINTRAC and the CRA are also needed.
This is not the ICIJ's first investigation to reveal how the world's most powerful individuals and institutions play a role in illicit financial activity. The Panama Papers and Paradise Papers uncovered well-known and influential names from major Canadian accounting firms to former Prime Ministers.
It is the top percent of society that benefit from schemes like money laundering, drug trafficking, and tax evasion, which ultimately hurt the poorest and most vulnerable communities.
As BuzzFeed points out, at least 25 of the people identified as subjects in the reports made the Forbes' list of billionaires while more than 400 of the locations of organizations named in the files are known tax havens or secrecy jurisdictions such as British Virgin Islands and Hong Kong.
By failing to strengthen weaknesses in our regulatory system, provide Canada's agencies with adequate support to do their jobs, and finally lift the veil on corporate and financial secrecy, the federal government is continuing to enable the profit of the few at the expense of the many.
More revelations from this latest major leak will be coming out in the coming days from the ICIJ and its media partners.