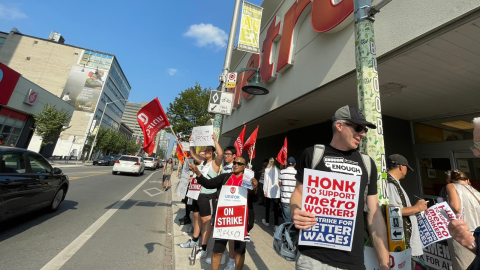 Canadians for Tax Fairness stands in solidarity with the thousands of workers at GTA Metro who are on strike.
Large grocery chains, including Metro, have reaped record profits in recent years. These profits would not have been possible without the workers who deserve fair and livable wages. 
A recent study by the Competition Bureau showed Metro and other large grocery corporations were increasing their gross markup before the pandemic and other supply disruptions. This continued throughout the pandemic while workers risked their lives so that Canadians could continue to eat. 
Metro's temporary pandemic pay increase for its frontline workers was short-lived, although it more than could have afforded to keep it. Our research shows Metro increased their profit margin by 25% since 2019. 
Our report found Metro was one of dozens of large Canadian corporations that took pandemic subsidies intended to support workers, and then proceeded to bolster profits, pay out dividends and implement share buybacks, and spend more on acquisitions than making new investments.
As Metro and other large corporations continue to profit from Canadians, the least they can do is share that profit and pay their employees a livable wage.
The Unifor Local 414 strike is a reflection of the growing demand from workers and the Canadian public to hold these large profitable corporations accountable.