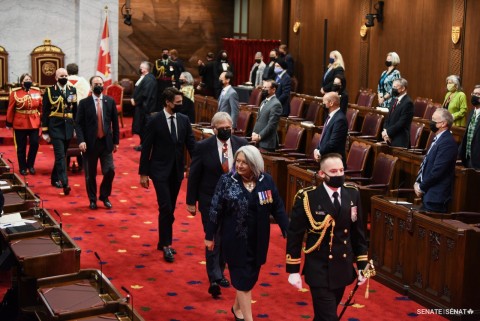 It's been a busy month in tax fairness, and it's about to get busier as MPs return to Parliament. Tuesday's Throne Speech outlined a number of policies on which the re-elected Trudeau minority government intends to move forward. With aspirations like "an economy that works for everyone," and "making life more affordable for all Canadians," the list includes subsidizing $10-a-day child care, investing in public transit, increasing Canada's foreign assistance budget, and strengthening the healthcare system for accessibility, rural care, delays, mental health and addiction, data collection and long-term care. As the climate catastrophe knocks at our door, there's also mention of prevention, preparation and reconstruction for disasters like floods, wildfires, droughts, and coastline erosion.
As for revenue, though the Throne Speech mentions increasing and redistributing the price on pollution (despite Manitoba's failed protests), and ensuring that web giants "pay their fair share" for the creation and promotion of Canadian content, these measures will only cover a small amount what's needed to improve public services, rebuild our economy and address the climate crisis. However, the money can be raised. The Canadian Centre for Policy Alternatives just released their annual Alternative Federal Budget (AFB), including a chapter on tax fairness by our own Toby Sanger. It outlines how we could raise over $70 billion, some of which could achieve the government's stated aims, including $10-a-day childcare, helping provinces cover healthcare costs, and how we can effectively address housing affordability.
At a time when data from Statistics Canada shows the richest 1%, and especially the 0.01%, are earning even more, it's especially important that those with the most don't just race their money off to their tax havens, or hop through their myriad tax loopholes. We've said it before, and the AFB reiterates: we need to tax wealth, increase transparency, tax excess pandemic profits, and restore the corporate tax rate to at least 20%, amongst other measures we've proposed.